The team at
Paws, Whiskers & Wags
, Your Pet Crematory, seeks to provide you with unparalleled support and comfort during the entire pet cremation process. We realize that this is a difficult time for you and your family, and an important time to honor the life of your loved one. The professional team at our Charlotte, North Carolina, pet crematory strives to make the long journey of saying goodbye just a little bit easier.
Christine Hunsaker, CEO and Founder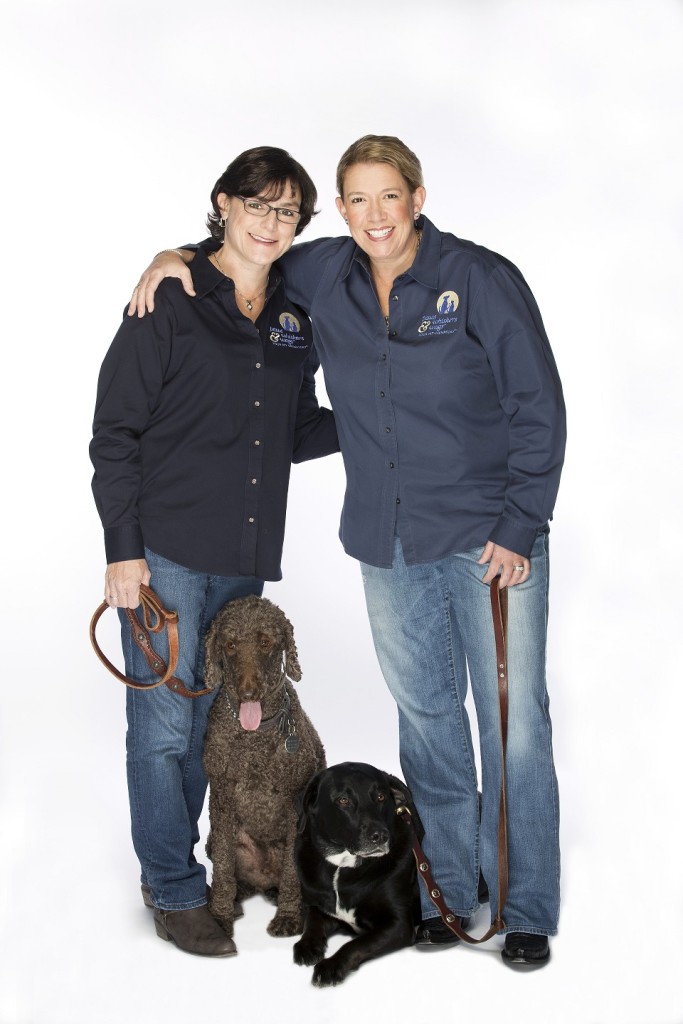 Christine Hunsaker is the owner and founder of Paws, Whiskers & Wags. Being a pet owner and lover herself, Christine built Paws, Whiskers & Wags on the basis of love and commitment to animals.
Not only is Christine one of the nation's leading cremationists, but she also continues to build and run some of the largest humans cremation companies.
Christine has built her business on a strong foundation of honesty and integrity, which is why she a highly esteemed and valued within the pet owner community.
Christine shares her home with her partner, Kellie Rowker, a pet lover and trauma nurse. The duo have a black lab, Myrtle; a small poodle mix, Suki; an orange tabby, Red; a chocolate standard poodle, Mocha Java; and a horse, Phoenix.
Dr. Cindi Branch, Co-Founder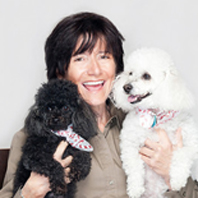 As a devoted pet-lover, Cindi Branch co-founded Paws, Whiskers & Wags in 2005. With over 20 years of experience with the largest provider of funeral, cemetery, and crematory services, Cindi has brought her passion for service to her latest venture with Paws, Whiskers & Wags. Cindi works closely with pet owners and initiated our Grief Training program. Calling Lake Oconee her home, Cindi shares it with her two Poodle children, Rudy and Lucky Girl.
Nikki Hofland, General Manager, and Tobi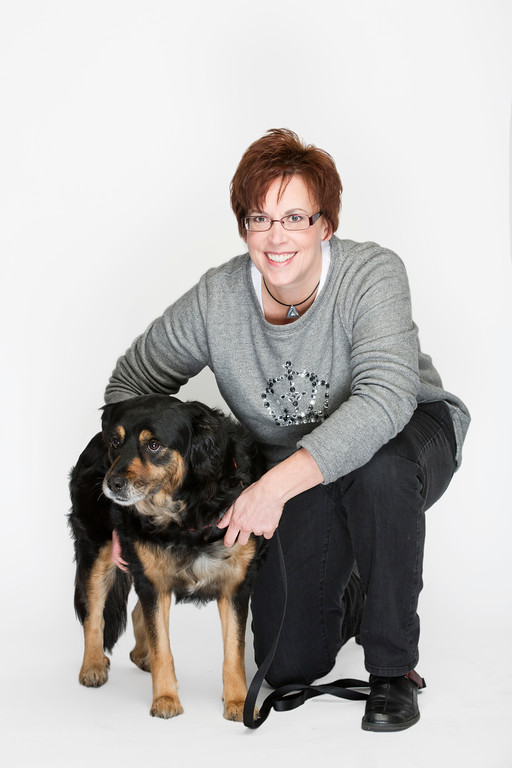 Nikki has called the Atlanta area home since 2003. Growing up, Nikki was the daughter of a GI, which gave her the opportunity to live in many places throughout the world. That explains her love of travel! However, her first love is spending time doting on her fur kid, Toblerone. Tobi is the official Dog Manager of All Operations, though she does have a tendency to nap on the job.
Nikki's extensive professional background as a Retail Operations Executive prepared her for the role of General Manager for all Paws, Whiskers & Wags locations. She feels gratification in her role as she assists fellow animal lovers in their time of need.
Kevin Ledford – Manager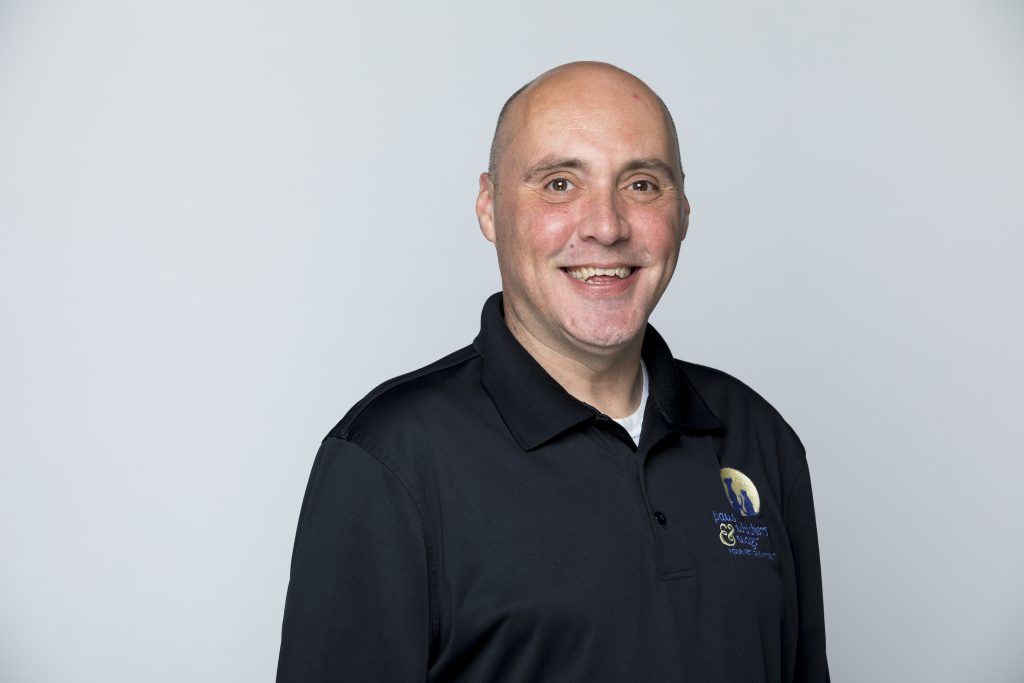 Kevin is a native of Atlanta and joined our team in January 2018. A veteran of the U.S. Air Force, Kevin was a funeral director on the human side of the death care industry for 25 years before deciding to come over to the pet side. He has been a client of Paws, Whiskers & Wags twice before. He wanted to share the same care compassion and kindness with others that was shown to him during the loss of his four-legged children.
Kevin is the proud papa of a Cocker Spaniel/Shar Pei mix dog named Annabelle and a short hair alley cat named Rocky. He is a self-proclaimed U.S presidential history buff who also enjoys museums and is an avid fan of bowling and poker. He is also a proud member of the Human Rights Campaign.
Brittany Elmore – Supervisor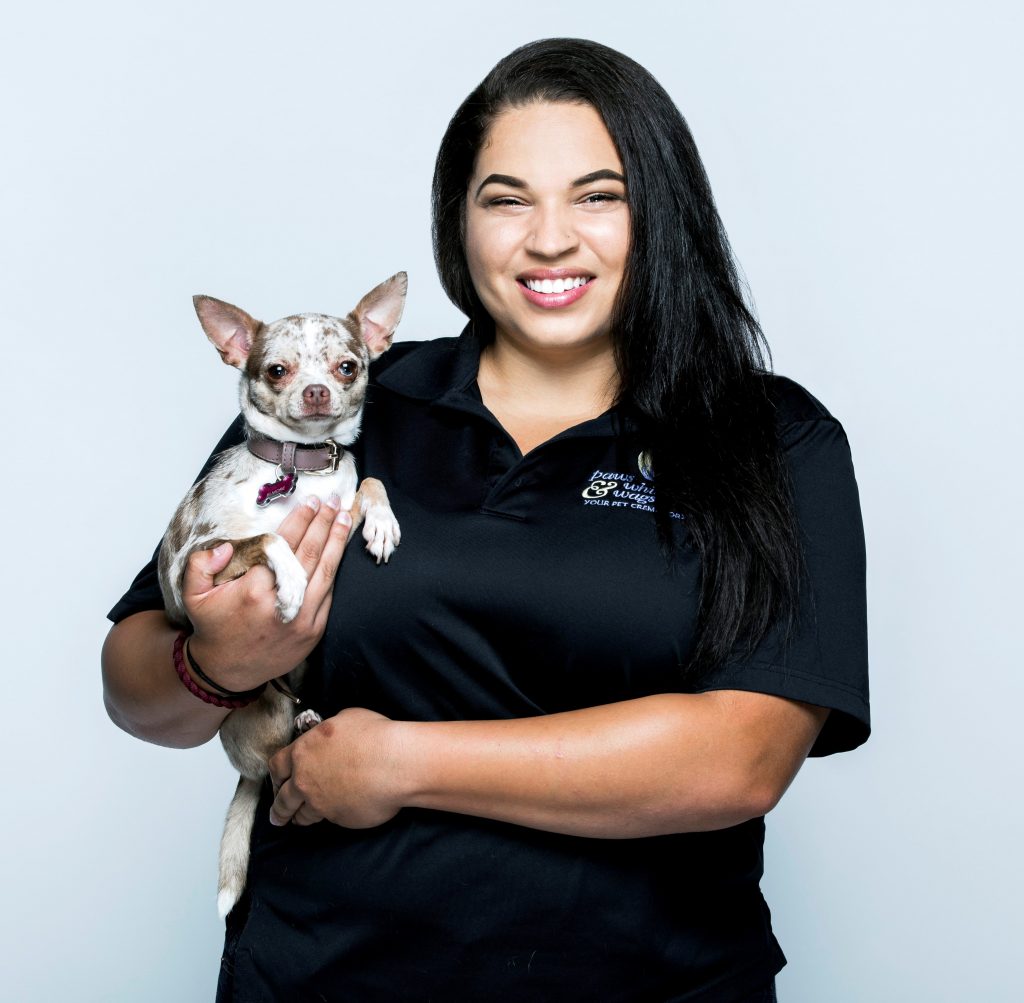 Brittany loves animals and has worked in the animal care field for three years as a veterinary tech. Her philosophy in life is to, "Count your blessings, not your problems. And count your own blessings, not someone else's blessings." She adds that jealousy occurs when you count someone else's blessings, instead of your own. Brittany loves her pets, traveling, music, art and family events/parties.
Alafia Patterson – Client Services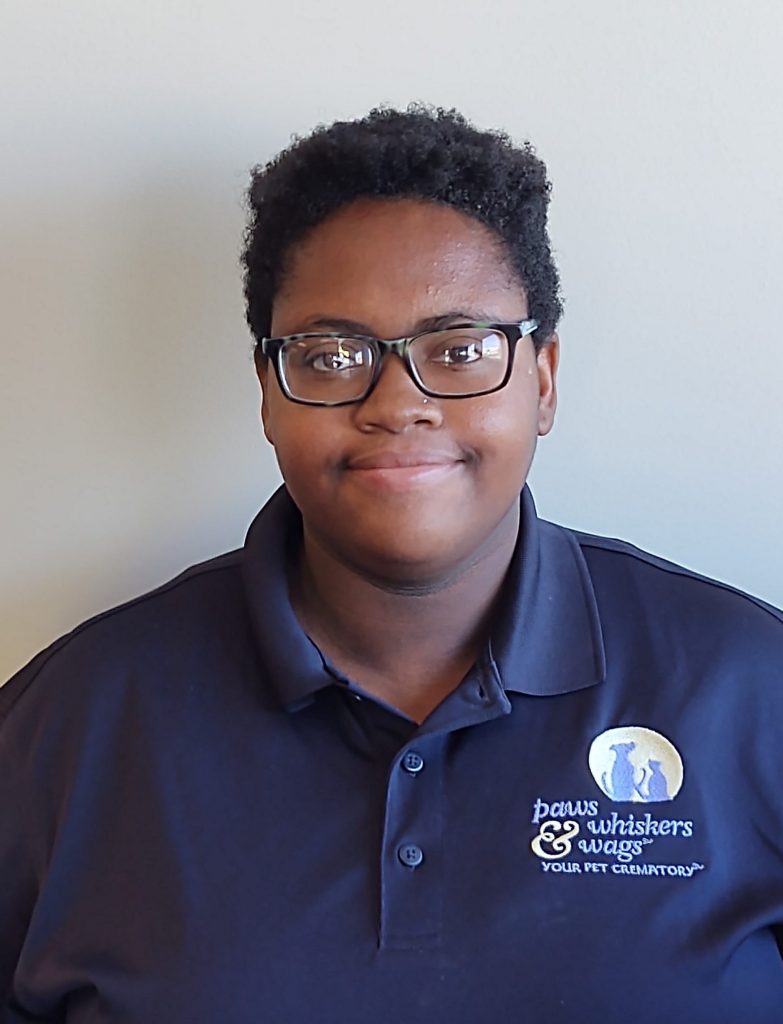 Alafia came to Paws, Whiskers & Wags with a B.S. in Biology from Warren Wilson College. She has several years experience training working dogs and caring for pets and farm animals. She believes that you should always try something new, then you'll know if you do or do not like it. Outside of work, Alafia enjoys watching horror movies, gaming, books, and arts and crafts. She goes home each day to Bear, the "old man dog", a couple of chickens, and one very loud duck.
Allen Yelton – Logistics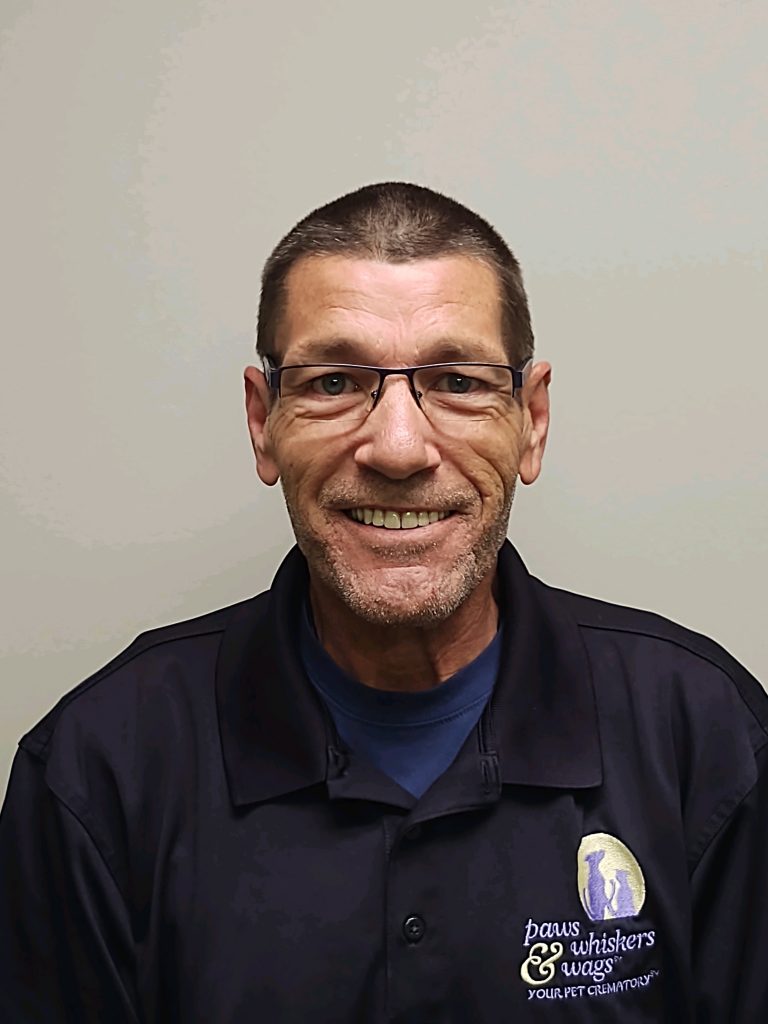 As a native of California, Allen relocated to North Carolina with his husband of 32 years and now 10 year old son, whom they adopted at birth in 2010. They moved here to be closer to Allen's mother in her declining years. Allen brings over 25 years of experience in the funeral and cremation industry to his team at Paws, Whiskers & Wags.
Allen enjoys spending his free time with his family traveling and exploring the East Coast. After recently losing his beloved dog, Bodie the Airedale terrier, and his loyal tabby cat, Baxter, Allen and his family plans on adopting another dog and cat in the near future. Allen's philosophy is, "Live life to its fullest with the ones you love."
Brian J. Bergamini – Logistics & Operations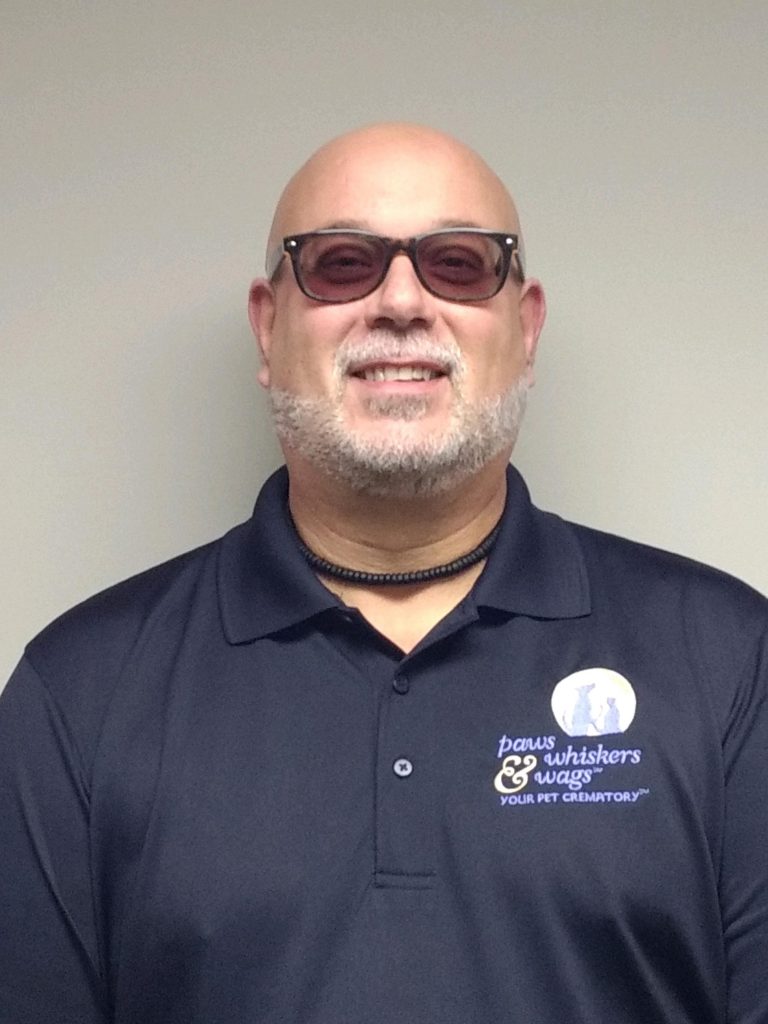 Brian is currently working on his Bachelor of Arts in History with a minor in Religious Studies. He holds an Associate of Science degree in Laser Electro-Optics and has previous driving experience as a casket delivery driver for Matthews-Aurora. Brian enjoys spending time with his wife and two daughters watching movies, listening to music, burning large amount of wood in his backyard, and going on annual adventures. He is a collector of stories in various forms from comics to books and movies and enjoys writing his own stories when time permits. Brian's philosophy is that "Reality is overrated" and he perpetually searches for ways to make reality live up to the expectations of the imagination. Fun fact for Brian: He used to formally practice Aikido, which is a Japanese Martial Art technique based on Samurai battle tactics and now practices it and the use of historical weapons in the privacy of his own home.
James N. Neelin – Logistics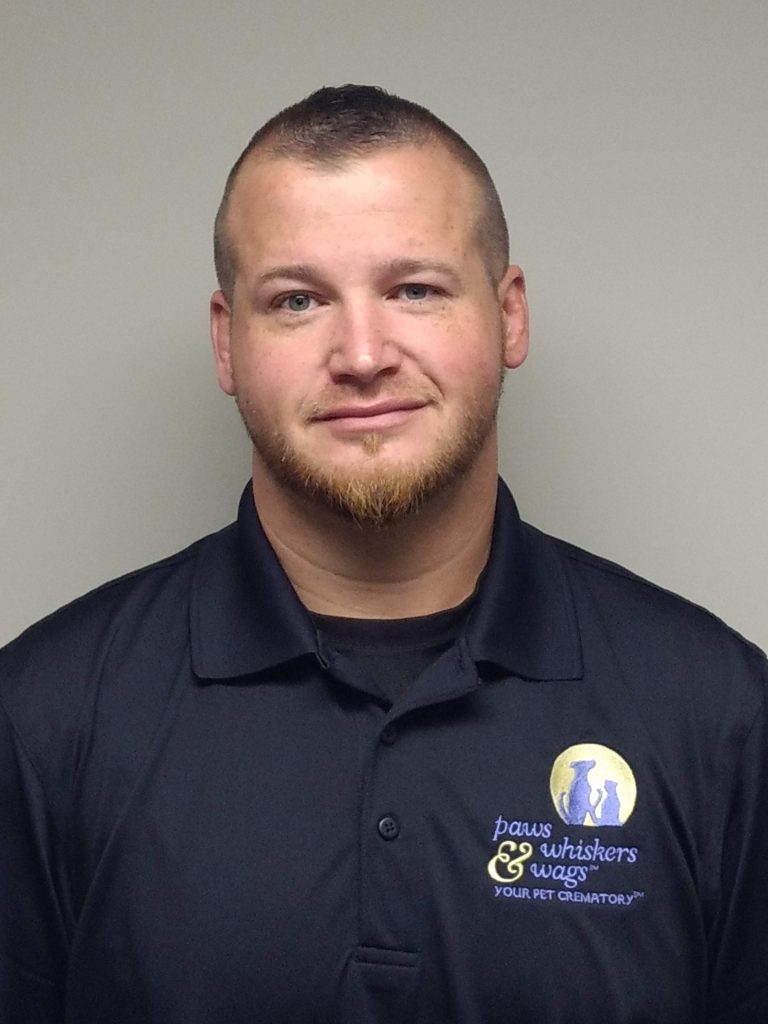 James has over 12 years of driving experience with various organizations. He is confident and able to drive different vehicles from dump trucks to vans with trailers attached. James enjoys gold mining and sand volleyball and has the philosophy that the outer world is reflective of our inner world and it is what we make of it.
Jason Christenbury – Logistics & Operations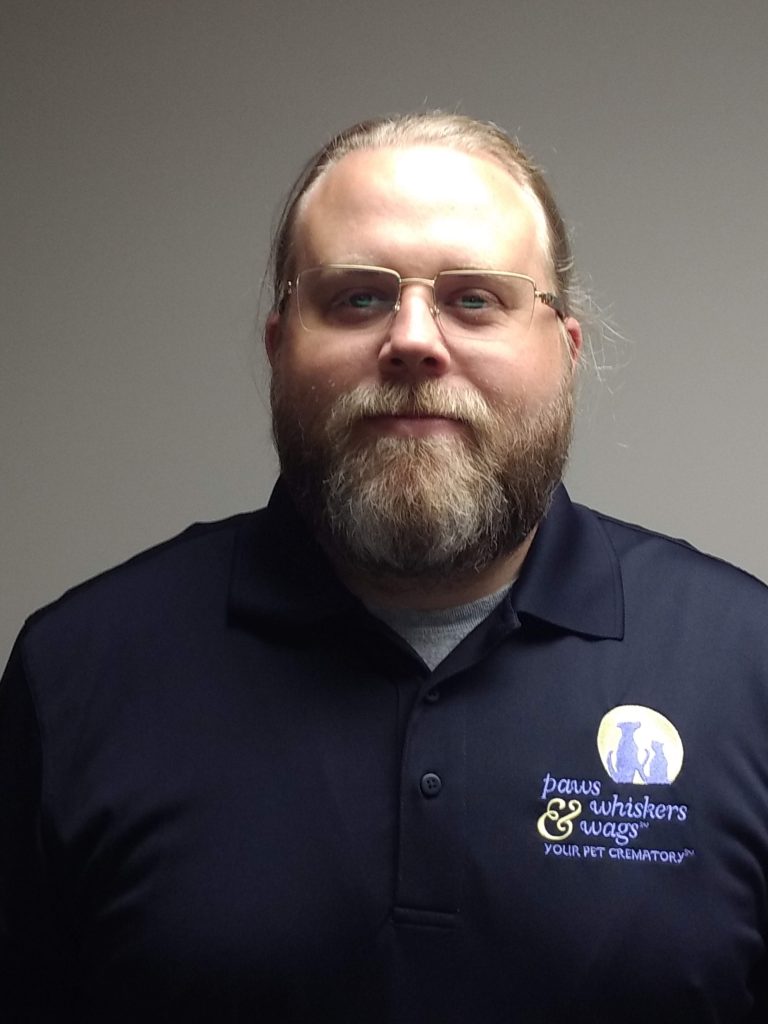 Jason enjoys being a part of the PWW family because he is given the opportunity to provide exceptional care and not only meet expectations but exceed them for our families. He has a B.A. in Mass Communications from UNC of Charlotte and enjoys bowling, movies, and food in a variety of venues from dinner parties to restaurants. Jason and his wife Amy have 3 dogs named Ozzy, Tango, & Cash.
Contact Us at Paws, Whiskers & Wags in Charlotte
The team at our Charlotte, North Carolina, pet cremation facility is available 24 hours a day by telephone:
980-819-2504. Please don't hesitate to call us via phone or contact us through our online contact form.