Paws, Whiskers & Wags, Your Pet Crematory, specializes in private pet cremation. Our patented Pet Tracker 360® system ensures that you receive the ashes of your pet – and your pet alone. Paws, Whiskers & Wags sells a variety of beautiful urns and other keepsakes to store your pet's ashes. Please browse the pet urns and other options currently available via the links below: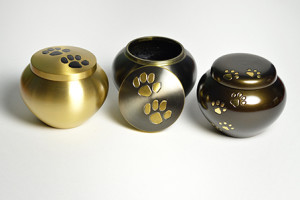 Cloisonné Pet Urns
Cloisonné is an ancient technique for decorating metal objects that dates back to the 12th century BC. Cloisonné pet urns are brightly colored and come in a variety of shapes and sizes.
Marble Pet Urns
Marble urns are among the best selling pet urns at Paws, Whiskers & Wags. Engraving for our marble urns is available for an additional fee.
Metal Pet Urns
Paws, Whiskers & Wags offers a wide variety of metal urns, probably the most traditional material for urns. Our metal urns come in a variety of shapes and sizes, some with paw prints or other decoration. Lockets are also available.
Wooden Pet Urns
Browse a wide selection of wooden urns for your pet's ashes. Most of our wooden pet urns are equipped with an area for a pet's photo.
Cat Urns
If you've loved and lost a cat, check out our selection of pet urns specifically for keeping a cat's ashes, including cat-shaped urns and urns featuring cat imagery.
Customized Figurines
Paws, Whiskers & Wags also offers wooden pet urns with dog and cat figurines resting on top. Find one with your pet's specific breed.